Industry News: 2020-2022 China's ferro-molybdenum recruitment by month statistics
According to the latest statistics, in the first half of March, China's major domestic steel mills tendered over 7,000 tons of ferro-molybdenum, and the consumption remained stable.
The data shows that during 2020 and 2021, the bidding volume of molybdenum iron steel in March is more than 9,000 tons, and the bidding volume in April is more than 10,000 tons for many years, ranking the highest month of the year.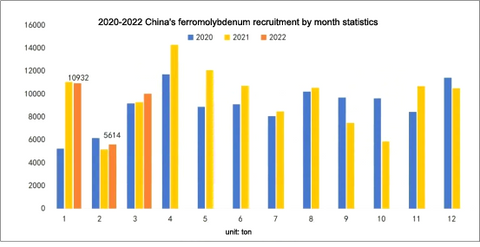 The monthly comparison data of the first two years shows that the amount of iron, molybdenum and iron in the steel industry has gradually increased from February to April.
March expectations:
According to statistics, the bidding volume of ferromolybdenum in January 2022 is more than 10,000 tons, and the bidding volume of ferromolybdenum in February is more than 5,600 tons. Combined with the performance of rigid demand in March, it is expected that some steel companies will enter the market to purchase ferromolybdenum again in late March.
Summary:
At present, molybdenum concentrate has risen to a new high in the past 13 years, and the quotations of downstream ferromolybdenum, molybdenum chemical, and molybdenum products companies have all increased following the increase in raw materials. For a period of time in the future, around the new cost line of raw materials, the main downstream molybdenum products will enter the stage of gradually moving up and increasing the delivery.